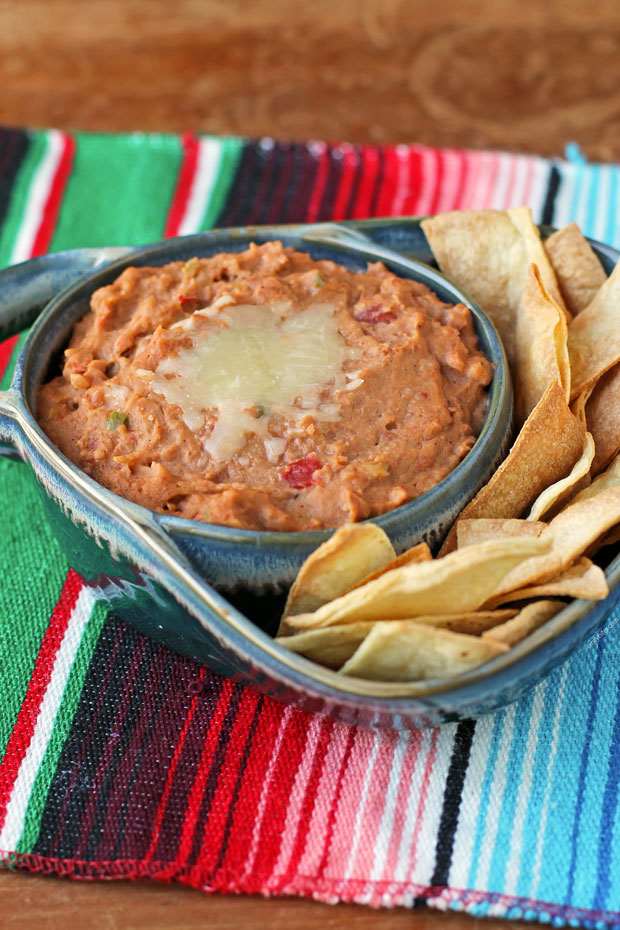 This Easy Cheesy Bean Dip uses just 4 ingredients and comes together in about 10 minutes! This dip makes a great snack for game day, a party, a family movie night, an afternoon at home, or even for lunch. It's unbelievably quick and simple to make too. You'll just mix together refried beans, queso dip, salsa, and taco seasoning, and then heat it all up using any one of the three heating methods I provided. Everyone needs a go-to easy appetizer or snack they can throw together with ingredients they have on hand, and this Easy Cheesy Bean Dip fits the bill! Plus, each satisfying 1/3 cup serving (no skimpy two tablespoon servings for this dip!) is just 85 calories or 1 WW PersonalPoint. That's right, one WW point! To view your WW PersonalPoints for this recipe and track it in the WW app or site, click here!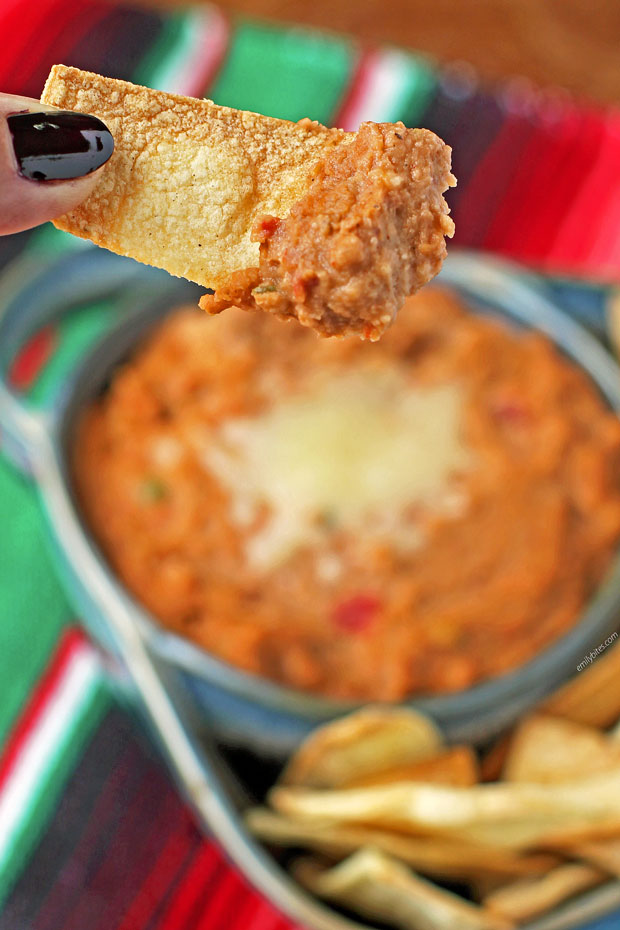 What should I serve with this dip?
 My favorite way to eat this Easy Cheesy bean Dip is definitely with tortilla chips. You can of course buy chips from the store, but if you're looking for a lighter version, I like to make my own! Scroll down to the next paragraph for instructions to make your own lighter tortilla chips in the air fryer or oven! Alternatively, you could also dip veggies like bell peppers or celery into this dip, or even use it as a filling for quesadillas or tacos!
How to make your own lighter tortilla chips (air fryer/oven):
Like I mentioned above, my favorite way to eat this bean dip is with tortilla chips. Lately I've been making my own in the air fryer (as seen in the recipe photos) by misting corn tortillas with cooking spray, sprinkling them with salt and cutting them into strips or triangles. I then put them in the air fryer at 350 for about 8 minutes (keep an eye on it) and take them out when golden. Then just let them cool and they'll crisp up! You can follow similar directions (time and temp) to bake them in the oven, you may just want to flip them halfway through. My favorite tortillas to use are either Mission Extra Thin Yellow Corn Tortillas or La Banderita Corn Tortillas, they both make great low-cal or low-point chips!
Cooking methods:
 For this Easy Cheesy Bean Dip recipe, you pretty much just need to mix the ingredients together and then heat them up. Because it's so simple, a variety of different heating methods will work, so you can select whichever is most convenient for you! I've listed instructions for heating this dip on the stovetop, in the microwave, or in the oven in the recipe below. The choice is yours! I'm sure you could also heat this dip up in a slow cooker and turn it to the warm setting to serve, but you'd probably want to double the recipe if you're putting it in a standard sized slow cooker.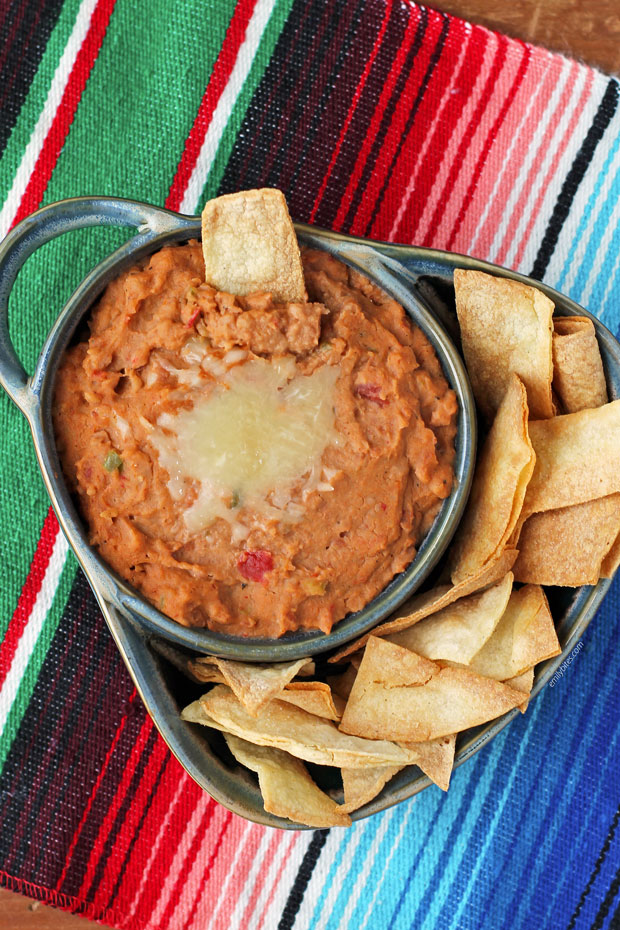 Recipe Tips and FAQs
Salsa: You can easily adjust the flavor and heat level of your dip by choosing a salsa that fits your tastes. If you want it spicy, pick a hotter salsa (and maybe add a pinch of cayenne). If you'd like to keep it mild, that's easy as well. You can even use a fancier salsa like a chipotle, tomatillo, or roasted tomato variety. Whatever you like!
Cheese: I just wanted to point out that while I sprinkled a tiny bit of shredded cheese on the dip for visual interest in the photos, there's no shredded cheese in the actual recipe. The recipe uses queso dip for the cheesiness! I used Tostitos Queso Blanco, but you could also use their Salsa con Queso (the orange kind) or another brand's queso dip.
Can this be made vegetarian? If you'd like to make this vegetarian-friendly, make sure you use vegetarian refried beans, which will be labeled as such.
Can this dip be made ahead? Yes! You could definitely make this up the day before and heat it up for a gathering. It should last well for 3-5 days in the refrigerator.
Where can I buy the bowl from the photos? Technically not a recipe tip, but I always get this question when I use these bowls in photos! Here's an affiliate link to buy them on Amazon. They're also sold by Lakeside Collection, but (as of writing) are currently out of stock on their site.
Looking for more Mexican-inspired recipes like this Easy Cheesy Bean Dip? Check out my Loaded Guacamole, Mexican Street Corn Chicken, Easy Chicken Tacos, Breakfast Tostadas, 7 Layer Dip, Easy Chicken and Bean Enchiladas, Easy Salsa Rice, Deep Dish Taco Casserole, Fiesta Stuffed Chicken, Easy Chicken Quesadillas, Mexican Chicken Cauliflower Rice Skillet, Beef Taco Soup, Layered Chicken Enchilada Bake, Spicy Beef Taquitos, Chicken Tamale Bake, Cheesy Taco Pasta, and more in the Mexican category of my recipe index!
Easy Cheesy Bean Dip
This Easy Cheesy Bean Dip uses just 4 ingredients and comes together in about 10 minutes!
16

oz

can fat free refried beans

8

tablespoons

(½ cup) queso blanco dip

,

I use Tostitos brand

6

tablespoons

salsa

1

tablespoon

taco seasoning
WW PersonalPoints for (1/3 cup) serving of this recipe on all PersonalPoints plans: 1 PersonalPoint
To view your WW PersonalPoints for this recipe and track it in the WW app or site, click here!
Nutrition Information per (1/3 cup) serving:
85 calories, 14 g carbs, 1 g sugars, 2 g fat, 0 g saturated fat, 4 g protein, 4 g fiber, 500 mg sodium (from myfitnesspal.com)
Weight Watchers PointsPlus:

2 per (1/3 cup) serving (PP calculated using the recipe builder on weightwatchers.com)